How was the Bikepacking RACE Baroudeuse born?
Love of cycling above all, this is what unites us and allows The Baroudeuse Bikepacking RACE to see the light of day and develop today. You will understand by taking the time to watch the videos. We work by bike, we get around by bike, we go bike vacation, we live by bike, we are spirit !
THE FIRST FRUITS: THE SENSATIONS OF MY FIRST BIKETRIP
It was during my first Bike Trip in 2015, solo, in autonomy with a MTB transformed into a hiker equipped with 4 bags Ortlieb (tough and waterproof!) That I was able to have time to ask myself after many years of developing my professional activity: I needed a break ! After 30 days, 4000K, 60000md + which made me do a Tour from Europe through 6 countries crossing the Alpine Arc on several occasions, I asked myself the question: »how to make discover the benefits of this facet of cycling, how to make them discover and make them share this feeling ofadventure, discovery and personal rebirth ? "
I told myself that it was not possible, that this kind of practice had to be done alone in autonomy, it had to be lived alone as I had lived it.
EVERYTHING SOMETIMES PLAYED IN ONE ENCOUNTER
I had my own vision and it was during one of the many bike trips that followed that I met a participant of the French Divide 1st edition. I then decided to cross the Pyrenees by all the passes from east to west, from the Mediterranean to the Atlantic. And it is at the top of the Tourmalet that I meet Philippe Trochon who explains to me how to do this test, we exchange a few minutes, we immortalize the moment, the magic moment of the bike trip: the met ! I then said to myself: "oh well so it exists, someone would have set it up and if there are participants, it is because there are cyclists to whom it speaks and who would like to discover" . Obviously there was already the TCR...
A moment of reflection ...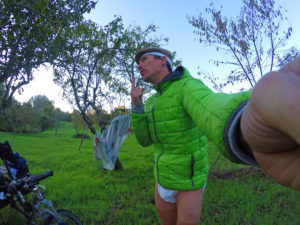 From there was born the Baroudeuse. You must surely be Ch'ti to create this kind of cycling event. Born in Valenciennes, I left the region at 20 spring. I now live in the South of France, near Nice where I have an extraordinary playground to organize this kind of race in a totally different terrain since in montagne. My years at a high level in triathlon have allowed me to limit myself to a lot in the region and I know the roads, the coastline, what not to miss and what to avoid.
THE BAROUDEUSE? LET'S GO !
La Baroudeuse UNPAVED made its debut at the end of October 2017 with a 137K course and a 317K course to be completed in MTB or Gravel. In 2018, the event UNPAVED was shifted on 14/07 and saw the birth of a great distance of 1000K. We decide to create the same type of event but ON THE ROAD in October to launch the concept on 400K and 800K.
It is therefore in 2019 that we set up our two events, me & Coralie my companion. The Baroudeuse UNPAVED and the Baroudeuse ROAD have gone from adventure status to RACE so you will understand: COURSE. We wish to perpetuate them during this same period:
La

UNPAVED RACE

from July 5 to 14, 2019 on

317K, 650K and 1150K

La

ROAD RACE

from 18 to 01 September 2019 on

400K, 800K and 2700K

(Trans-Alps)
TEAM UNPAVED OR TEAM ROAD?
What was important to me was to differentiate the two types of events compared to rolling surfaces because not everyone likes MTB / gravel and / or the road, we had to differentiate the two. And it was important to me to organize a crossing of theAlpine Arc that I was able to do during my first Bike Trip! It was magical and I wish everyone to live what I went through, to go through all the hardships with serenity, to meet people who will mark you forever. There is something for everyone, I wanted cyclists who do not know Bikepacking to be able to try out short distances. Certainly 317K is short but associated with 8500md +, believe me that there is something to gain height, to contemplate panoramas crazy, all in nature ! It is a test of discovery for already seasoned cyclists and which must be earned. The logic is the same on the ROAD. You will understand it with an intermediate distance and the route of confirmed cyclists.
Our events have names in "US": Magnus, Maximus… Etc there are several reasons for this which we will see later in a future post ;-).
Our trials emerge from the nest thanks to a passion still intact. The bike trips are numerous and theexperience always so rewarding.
Thank you for your interest and your partner for those who return each year to participate in The Baroudeuse.
Thank you to my darling who helps me enormously in all these projects that eat up a lot of time.
Thanks to everyone who support and give their time to help me develop this great adventure, they will recognize each other.
See you soon, Cédric Amand