Mercantourman XTREM Triathlon 2021 - Baroudeur Spirit
Team Baroudeur is proud to present the second edition of the Mercantourman XTREM Triathlon. We have decided to attach this Triathletic Adventure to the events that you all know from La Baroudeuse. A first in the world of ironman distance triathlon thanks to this self-sufficient road or gravel version which ends with a fully autonomous trail course. The most difficult, the most beautiful and the most natural Extreme Triathlon in the world.
50 seats are available for Triathletes who want to see the triple effort differently. Indeed, apart from the starting area and the T1 and T2 transition areas where triathletes can get supplies thanks to their Staff team, they will then have to evolve in total autonomy during their course of 3,8K swimming, 210K - 5500D + on a road bike or 238K - 5500D + on a gravel / MTB bike and 42K for 1650D +.
A TRIATHLON TO FOLLOW IN LIVE TRACKING
Each Triathlete will be equipped with a GPS beacon in order to be followed from the swim until the finish. Families, friends, and triathletes themselves will be able to follow each other's progress live on their phone via an application or in front of a computer. a Interactive triathlon in real time to be viewed on the base map of your choice.
Cedric Amand: "It seems essential to me in this kind of adventure to allow live monitoring in good shape and form because we literally go beyond the race management of a traditional ironman. The Triathletes will be in autonomy and therefore there is a tactical side in the management of the effort which will bring out the best in this direction. It is obviously physical but it remains a short Adventure to be achieved in less than 24 hours and if a triathlete misses the tactical side, he could pay dearly. "
A NEW ROAD OR GRAVEL BIKE COURSE
The Mercantourman is already a hell of a 210K road bike adventure for 5500D + ending with a 42K Trail for 1650D +. All to achieve in less than 24 hours, at least that's the challenge to win your Rudius (wooden sword) engraved finisher.
We enter a higher dimension by registering on the Mercantourman version Gravel - MTB (your choice) over a distance of 238K for 5500D +. We love nature, we like to evolve according to what it can offer us at the moment T all linked to mountainous climatic conditions which will contribute to giving even more "spice" to the challenge which in this case is to achieve in less than 41 hours to pretend to win your freedom and your Rudius.
Please note, in this configuration, you will have to take the start with Bikepacking type equipment and therefore everything you need to sleep warm in the mountains during your journey. The first Triathlon of its kind!
THE NUMBERS ARE FEARING BUT IS IT SO INACCESSIBLE?
Cédric Amand: "The selection is made on file and the experience of the candidates will be studied. It will not be based solely on the Triathletic experience, on the contrary! The main thing being to know how to swim without problem, then the candidates will have to have experience to evolve in total autonomy without refueling as on Bikepacking (personal or event), Ultra trail ... etc. Then even if the figures are scary, it is For me, it is a much easier race to manage than on an Ironman race where you are looking for a time. Here we keep a nice notion of pleasure, to move forward, to evolve, to refuel over the course. As long as the equipment is adapted like the gear, you can go around the world. And it is this dimension of the effort on a Triathlon that I want to introduce. I want triathletes to get out of their traditional practice pattern from A to Z. And it will evolve further, this is only the beginning of the story. "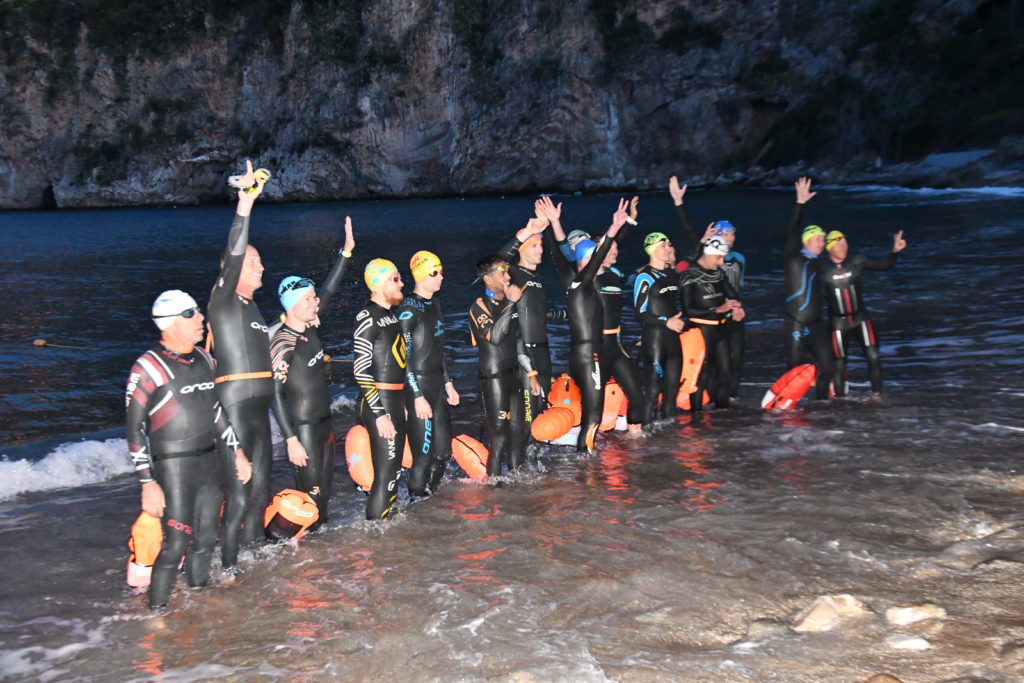 Coaching - Preparation for the Mercantourman | STAGE Gravel - MTB Adventure preparation