La Baroudeuse Bikepacking in Trimag Magazine
It is time to read during this period of confinement. We are proud that the press specialized in Triathlon is interested in the phenomenon of adventure, independent sport, gravel and among others La Baroudeuse Bikepacking. Practices geared towards solo effort without refueling, without announcer, without red carpet, without sound system: it is true that this appeals to a large audience and who will soon come and discover the joys of the unexpected.
Thank you to Trimag Magazine for these 6 very interesting exchange pages. Go ahead and support the press and buy this magazine.
Athletes in triathlon seek to optimize everything, control everything and the plans (in the race) must go without addiction at the risk of missing the goal set and giving up. It is a reality to note that here we are in a slightly different approach since it is true that the future adventurers who try to become finishers also wish to optimize every detail: training, preparation, equipment, connections ... etc
But the difference will be in state of mind since if you keep your fingers crossed that your adventure takes place in the best conditions for 7 to 14 days of racing, it is rather a bad racing plan. Of course we try as much as possible to avoid problems, but in the Ultra Cycling adventure, the most efficient will also be the one who manages as well as possible the physical problems and failures that will accumulate over the hours and days of racing:
BETTER SLEEP
Equipment breakage
Puncture
Electronic problem
Geolocation problem
Food management
Evolution day and night, from very hot to very cold
We are dealing with the problems that are an integral part of performance, while in triathlon, the objective will be to ensure that everything runs as smoothly as possible on the rails to optimize the final time.

The participation process is also very different between the world of triathlon and ultra cycling adventure at La Baroudeuse.
Triathlon is clearly a performance practice and many are looking for the scratch and category podiums. Gone are the days when triathlon was the sport where you took the start to finish the event. Triathlon has long suffered from an image of an inaccessible sport, whereas it is quite the opposite, on the contrary, since it is a fun sport that is easy to access physically thanks to the Sprint distances. As a result, practitioners have multiplied, and the density has become very interesting today. The triathletes are rewarded with scratch podiums, by age category (which let's say it never ends!) all for men and women. And without entering the qualification slots for the Ironman circuit. Even the Embrunman has become a performance race where a large percentage want to set a time when 30 years ago we were in a spirit Finisher.
In ultra cycling in general and in La Baroudeuse in particular, participants flee this state of mind, they are tired of this way of consuming sport. Each participant of La Baroudeuse is treated in the same way from the winner of an event to the last. We try to accommodate each of them day and night and they all leave (for the finishers) with an engraved wooden sword: a Rudius symbol of their freedom.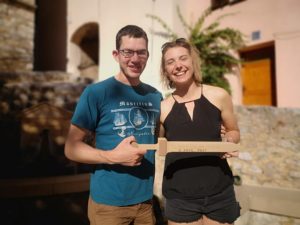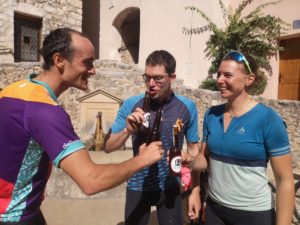 No more no less
It can even happen for some that they arrive without reception because of circumstances related to this type of event. And very often, the riders accept it and it is part of the "game" of this kind of race.
We offer them a beer and we discuss their journey. We retrace their evolution together, which we were able to follow thanks to Live Tracking.
So there are slightly different overlapping states of mind. A triathlete will more easily make the step towards a less "consumable" racing world because he will also have toured the competitions as he gets older. Once the switch is made on the other side, towards the world of ultra without assistance in autonomy, that is to say on the side of nature, adventure, autonomy, pure effort in total management, it is difficult to go back and to be greeted by a supercharged speaker on a red carpet.
Even the world of ultra trail is not comparable since the spirit has disappeared, to wonder if it even existed. Supplies every 15km, Staff, help from everywhere. The runner does not live an Adventure where his decisions can have an impact on his own safety.
The subject is vast, thanks to Trimag for showing the triathletic world that something different exists after competition and that cycling can be done in yet another way.
Coaching - Preparation for La Baroudeuse Bikepacking | STAGE Gravel - MTB Adventure preparation