UNPAVED backpacker: let's talk about equipment
We are going to discuss here a very interesting part for those who still doubt the material to adopt for the bikepacking test the Backpacker UNPAVED RACE which will take place from July 5 to 14, 2019.
FRAME SIDE: which bike will be best suited to the UNPAVED RACE Backpacker
Let's be clear, the goal is to ride for a long time, to jump as little as possible on the saddle of your bike and therefore to be able to pedal smoothly without unnecessary loss of energy. Several bikes are possible on the Baroudeuse Bikepacking RACE but several very important basic criteria must be taken into account:
the chosen distance: 317K or 650K or 1150K.
your years of cycling and what specificity you come from.
your preparation for the event.
your posture on the bike.
your bikepacking experience.
know that the more comfort is added, the more the weight of the machine will be increased.
do not underestimate the event.
And yes these criteria are important and will influence the choice of your frame. The distances of 317K and 650K can allow you to start with a gravel under several conditions:
that your tires are wide enough (strict minimum 40mm) in order to favor comfort, all mounted in tubular obviously to allow low pressure. If you have less, you go to the "pipe breaker".
The other condition if you go on a gravel bike is to love to vibrate, to love the authentic side of the bike and to feel the terrain, it is the minimalist bike of the Baroudeuse Bikapcking RACE par excellence that will allow you to live your journey but for that, friends, be physically prepared to take it. This is why we recommend this bike up to 650K maximum and exclusively for people who know each other well.
Chiru BIKES who is our partner offers us an example of titanium gravel here in 27'5 setup with 1.90 tires: the Waves (compatible in 700 x 43 also), a feather of 8Kg.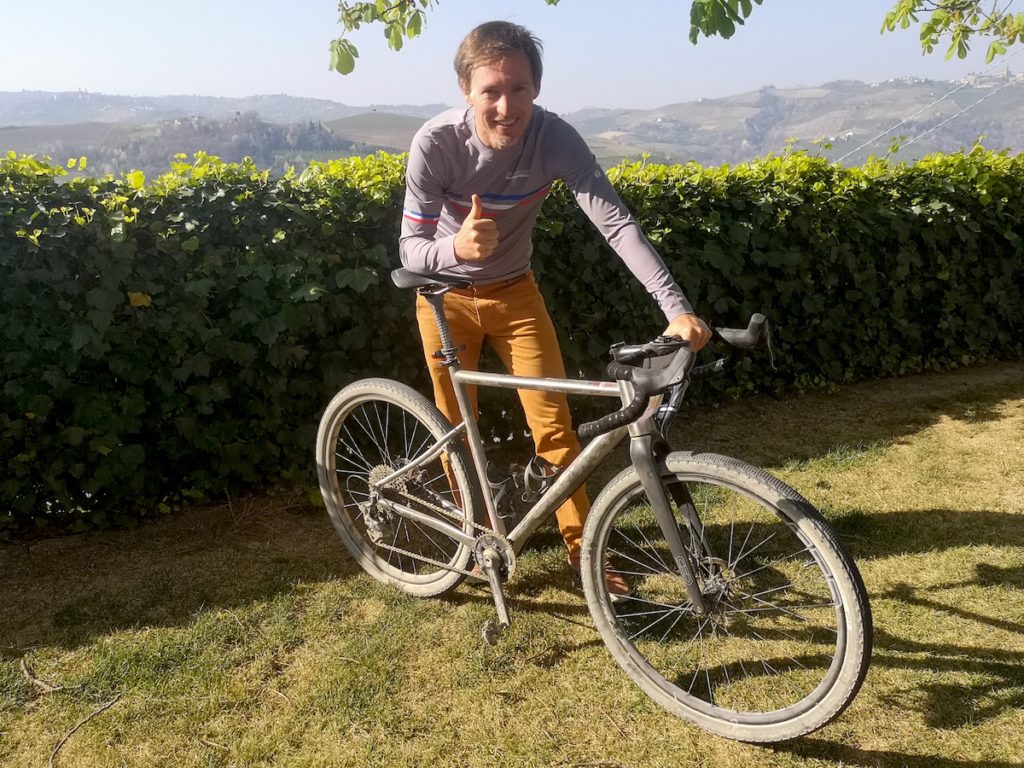 Beyond and therefore over the greatest distance: 1150K, it will be necessary to rely on another bike configuration, i.e. MTB rigid fork (or suspended at the front is a more or less comfortable choice) 27'5 or 29 ″ or even monster cross, the whole still assembled in tubuless 2.10 ″. These bikes will allow a slightly wider tubular tire fitting, preferably always in order to allow a lower pressure. You will thus jump less on stones and these bikes will absorb roughness better provided the pressure is lowered. Be careful, on this criterion, your healthy weight is also part of the game and the lighter you are, the less you will also suffer.
Gravel bikes are strongly discouraged on the Augustus 1150K long distance. Moreover, Gravel will not be the right choice if you want to perform over all distances.
If we are talking about performance then -> MTB rigid or suspended at the front over all the distances of La Baroudeuse.
If we aim first and foremost finisher -> MTB or gravel on 317K while accepting the constraints of Gravel. Mountain biking or gravel on the 650K (but it will "sting" more for the Graveleux). And finally MTB only on the 1150K.
THE 29 ″ RIGID FORK, TITANIUM FRAME OUR ULTIMATE CHOICE
An example of the perfect bike that we recommend and which for us remains the must, the lethal weapon on our 3 routes: the Chiru DIVIDER, here in Pinion gearbox assembly, 29 ″ and in 2.10. It will pass everywhere even on technical sectors all in 9Kgs.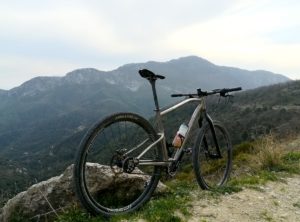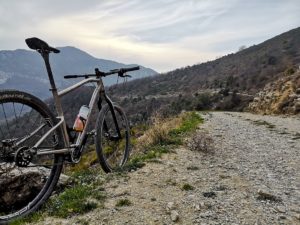 Obviously, other brands are doing this configuration and it's up to you to approach it. If you really like comfort, go for a suspension fork that is preferably light, because the enemy of the adventurer is obviously weight.
At Chiru, the Shocked also remains a good alternative even if La Baroudeuse is not classified in the category of technical tracks but this bike will be preferred for those who also like to ride with a straighter back and a less sporty ride. This model remains focused on the mountains but on paths that can sometimes be used like enduro bikepacking. Knowing that on engaged sectors, you will also need to have the technical background to pass, the bike not doing everything!
The point not to be overlooked and where it is important to add importance is your preparation. The latter will allow you to fine-tune your setting on the bike. They say that you have to pedal straighter over the long distance but you will also be less efficient in pedaling because the muscle chains that you use regularly on your road bike will not come into action in the same way as on your bike. ultra distance where you will be upright. Your legs and back may not understand and this can penalize you as the days go by. Not to mention that a position that is really too straight will penalize you on the rolling sections facing the wind. A back that is too straight, it is also less developed powers. So do not neglect your preparation which will allow you to refine your posture on your machine in order to increase your performance. Believe us, if you are well prepared, you don't need to be too straightened out!
Your bikepacking experience may influence your equipment. You will choose it thanks to your experience, and the more you have and the more you can rely on it, to refine what you want: comfort, performance, practicality, ergonomics, reliability.
COMFORT SIDE: let's start with the essential basic equipment
We advise you to have a good pair of sunglasses, we are not among the Gauls and the sun comes within the criteria to be taken into account. Besides the little one Baroudeur cap offered for your registration is also recommended under the helmet.
A good pair of gloves to have grip on the handlebars. Having your hands slippery due to perspiration could make you risk a stupid fall on the paths, not to mention that in the event of a small fall, it will always protect you.
You will be navigating areas that can be very hot and reach peaks where the temperature can also drop. You therefore need suitable clothing: short jersey and shorts associated with cuffs, leggings, windbreakers with or without sleeves and necessarily a quality raincoat. The cuffs and leggings are practical because you can always take them off or put them back on at your ease.
For the bivouac, if you sleep outside: sleeping bag + bivy. Choose a change of clothes that will keep you warm for sleeping: the Merino fabric is a good alternative because it is thin, light, breathable and good thermal conduction for both cold and heat.
As for shoes, you are clearly oriented towards MTB type cleats. We will not let you take the start with pedals and cleats for look and other type road bikes. It may seem obvious to some but maybe not to others, let it be clear.
If you join Backpacker Cycling Community, you will receive a package:
Baroudeur Team France cycling outfit (or other country depending on your nationality).

Yellow vest.

Cap.

A meter of reflective tape.

-10% on the purchase of a Chiru bike.
All information here: https://baroudeur.team